Betta144 is a robust external area and security solar lighting solution.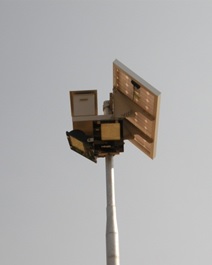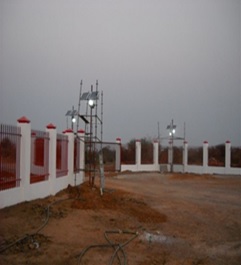 Applications
Security gates, external parking areas, dark areas not on the grid, Government buildings for rural areas such as clinics, schools and border posts, perimeter fencing.
Light Distribution: Betta144 uses 120 LED diodes and has a light distribution angle of 140 degrees. Illumination is 20 lux at 5 meters on the centreline. As a result the demonstrated area coverage per light is approximately 200-300sqm with a distance of 20 meters.
Lead Crystal batteries: The system makes use of 2 x 22Ah 12Volt lead crystal batteries. These batteries can handle heat of up to 65 degrees C, it can be depleted 100% and will take charge thereafter, it recharge 2 to 5 times quicker than other lead acid battery  technologies with a life expectancy of 10 years.
Bracket: The Betta144 can be mounted on a 5-6 meter galvanized pole with a 76mm or 115mm thickness on the top or on a wooden pole with a thickness of 155mm on top. The bracket system is available in stainless steel or mild steel and is e-coated and poweder coated against any form of corrosion.
The Betta144 can be configured with either one or two light heads per pole installation. The size of the solar panel will depend on the area of installation due to the weather and climate influence.
Technical Information
Aspect

Technical Specification

Light

 

Light power consumption in watt        

9.6 Watt

Light output in Lumen

1000

Average Lux over area

6

Lux on ground level at pole base

10 Lux

System Operating temperature

Minus 15 to +60 ℃

Suggested lamp height in meter

4.5

Light distribution angle (total inclusive angle in degrees)

140

Quantity LED diodes on light board

120

Expected LED life in hours

30,000

How many light heads per solution

1 or 2 LED light heads

Solar Panel

 

Solar Panel Watt

1 x 50W for 1 x LED light head – if 2 lights are needed the solar panel will be 80W max

Quantity of Solar Panels

2 panels

Panel Warranty

3 years

Expected panel life, at 20% of wattage degradation

25 years

Hail impact resistance

227g steel ball,1m high

Panel Operating temperature

Minus 40 to +90℃

Charge controller

 

Charge controller warranty

2 years

Charge controller function settings

Switch light on during night and off at night only

MPPT

Yes, 10% more energy efficient

Heat resistant

Yes, can handle heat of up to 90 degrees C

Harmonious function with lead crystal batteries

specifically designed to function with lead crystal battery technologies with its unique algorithms

Batteries

 

Quantity of Batteries

2

Battery Ah at 12 volt

22 Ah each

Nominal system voltage

12

Battery type

Deep cycle, lead crystal, sealed, maintenance free

Battery operating temperature

Minus 40 to +65 ℃

Battery warranty

2 years

Expected battery life in this application

7 to 10 years

Expected battery cycles at 33.33% DOD

2600

Expected battery cycles at 50% DOD

2000

Expected battery cycles at 80% DOD

950

Expected battery cycles at 100% DOD

400

 

Bracket solution

 

Bracket set material

3 CR12 Stainless steel, E-Coated and UV resistant powder coated or mild steel E-Coated and UV resistant powder coated

Bracket set adjustable to optimize panel efficiency

Yes

Adjustment angles

0 degrees to 90 degrees from horizontal – degrees engraved on metal works for easy installation

Bracket set galvanic corrosion protected

Yes. Passive insulation.

Battery box insulation

Yes

Designed to handle how many solar panels and battery boxes

1 solar panel and 1 battery box

Fit to what type and size poles

Galvanised: 115mm and 76mm thick at top

Wood: 155mm at the top

Bolts, nuts – all fasteners included

Design features

 

Energy usage stored in batteries (days at 13 hours per night)

2.8

Full solar hours per day assumption for solution

4.5

Full sun hours needed to replenish one day's consumption

2.35

Light on/off at dusk/dawn

Yes. Use panel output to activate switch

Over charge protection

Yes

Over discharge protection

Yes

Light will switch on/off automatically

Yes

System weight in kg, mounted on top of pole

95

Wind resistance area in square meter

1.5 m2 at angle and 0,5 m2 vertical face