The unique and award winning off grid power pack solution for laptop & tablet computers as well as inkjet printers, anywhere and anytime.
What is the ener-G-friend about?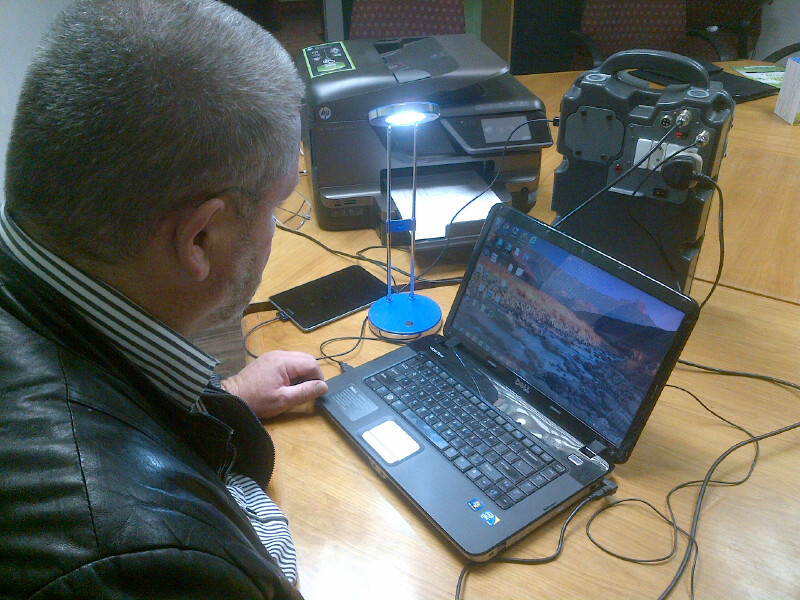 The ener-G-friend is an intelligent device used to supply power to laptop & tablet computers, mobile cell phones and inkjet printers to be used off the electricity grid, or where the grid is unreliable. 
The ener-G-friend's battery pack is charged either from a solar panel or from a 220 Volt AC charger which is available as an optional item form Betta Lights.
The electronic devices plugged straight into the ener-G-friend and can be used at all times, whether the ener-G-friend is in charge mode or not.
The ener-G-friend provides many additional hours of usage, acting as an Uninterrupted Power Supply to the laptop, tablet or other electronic devices. 
The ener-G-friend is available in the OFFICE and TRAVELLER models, and single or 4 port USB tablet computer versions. Project specific models can be configured with the available building blocks.
In some cases a LED study lamp is included with the ener-G-friend as a standard item.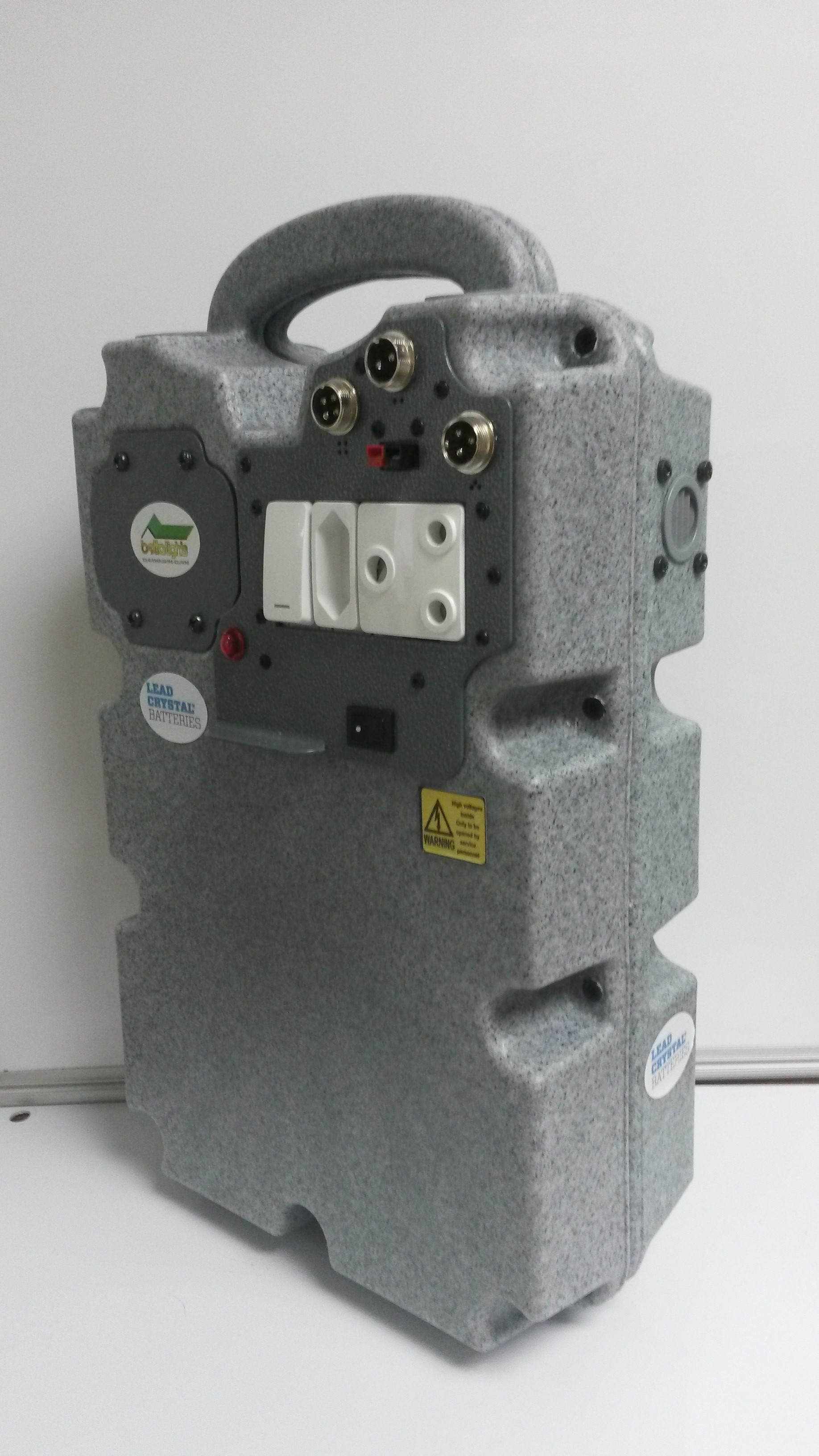 Applications
Applications:  Off the electricity grid rural and small offices, e-Schooling projects, point of sale devices. The ener-G-friend is also configurable to incorporate an AC charger to use the solution as a redundant power supply, should the grid power fail for critical computer devices
The primary application of the ener-G-friend is to supply energy to laptops, tablets, mobile phones, inkjet printers and other devices such as point of sale electronics, cameras and photo printers to be used in the field or in small off-grid offices or small offices with unreliable power.
Off-grid schools, rural health clinics, computer labs, farming communities, temporary field offices, fieldworkers, off-grid students, campers, literally anybody using a laptop or chargeable electronic device where grid power is unavailable or unreliable can benefit from the ener-G-friend.
Off-grid students and "Must Have Tools"
Modern day students not only need reliable computers with Internet connectivity to prepare and submit assignments,  but also need a reliable power source to power their laptops  and other handheld devices at any time, whenever needed. Students also need quality light to study by and to do assignments, which generally happens at night. Many students work on an ad-hoc basis and have other activities during the day, thus needing the ability to power their devices   anytime of the day or night.
The ener-G-friend allows the modern student, living off-grid or with unstable electricity, to develop his or her natural learning talent to excel as a student,         enabling the person to become an economically active and successful citizen and competing equally with those living in first world conditions. 
Power for Point of sale devices
POS devices can be powered by the ener-G-friend for any rural application. Most of the Point Of Sale devices work from a standard computer power interface which will allow the ener-G-friend to accommodate their different voltages. Specialized POS devices like gambling machines in rural areas can be powered from the ener-G-friend to facilitate business in rural locations. Point of sale devices in cities with unreliable grid power can be fitted with an AC charger, once the grid power disconnect the ener-G-friend will allow for many hours of continuous power supply to the point of sale device.
Redundancy power supply for unreliable power supply
As a result of poor or unreliable on-grid power supply, many African cities experience power losses of up to 100 days per year; meaning that small businesses lose a substantial part of their potential trading. The ener-G-friend with its its own AC charger, can be connected to the AC power supply from the grid, and should the on-grid AC power fail, the ener-G-friend will supply power to the laptop and/or inkjet printer connected to it without even knowing that the AC power failed. The ener-G-friend, if it is the "OFFICE" model will be able to supply power to the laptop computer for at least the next 8 hours of continuous work per day.
Key features
Fast recharge of laptop, tablet or other device's batteries: The typical recharge time for most of the popular laptop brands is about 100 minutes.
Extended run-time from power pack: The ener-G-friend Office provides power for most laptops with up to 17 hours continuous runtime without recharge, whilst the ener-G-friend Travelers' battery will provide about 8 hours continuous runtime without recharge. Thus, the Office model is designed to support a laptop to function for a normal office day, every day.  The Traveller is designed to support a laptop to function continuously for 4 hours, every day. 
Laptop can be used whilst charging: Whether the laptop or the ener-G-friend, or both are being charged.
Day and night usage: The ener-G-friend can be used at any time of the day or night. When using the solar panels to charge the ener-G-friend, charging will only take place whilst the sun is shining directly on the panel.
Long life of battery pack: The built-in lead crystal battery pack has an expected battery life of 7 years. Lead crystal batteries do NOT use acid, are sealed units, are maintenance free and can be stored without losing substantial energy for up to 2 years. These batteries can also withstand 65 degrees C.
Multiple power source usage: The ener-G-friend can be charged either via the supplied solar panels or via an optionally supplied ener-G-friend 220Volt AC battery charger. 
Uninterrupted Power Supply: Should the laptop battery fail, the ener-G-friend's battery pack will automatically take over as mainstream power supply, until the user replaces the laptop battery.
The ener-G-friend is designed and produced in South Africa to cater for the severe African sun and temperatures associated with the climate. Rural Africa experience typical weather conditions of plus 40 degrees C and hence requires products that can withstand such severe conditions. All the components of the ener-G-friend, inclusive of the Lead Crystal battery used, can withstand temperatures of up to 65 degrees C. 
Fast recharge of the battery pack: For both the Office and the Traveller, the supplied solar panel replenishes one day's energy usage in only 2.6 full sun hours.
Technical information
Model and configurations
The ener-G-friend is available in various models for different applications:
| | | |
| --- | --- | --- |
| Model | Typical Use | Configuration |
| ener-G-friend "Office" | To power a rural office with 1 x laptop, 1 x reading lamp and 1 x inkjet printer, for 8 hours per day | 1 x 22 Ah battery, 50 watt PV panel, 1 x reading lamp, DC to DC converter, plus build-in 150 watt Inverter |
| ener-G-friend "Traveller" | To power a traveller with 1 x laptop, 1 x reading lamp for 4 hours per day | 1 x 12 Ah battery, 20 watt foldable Panel, 1 x reading lamp, DC to DC converter, rucksack |
| ener-G-friend "Tablet" | To power a single tablet for 4 hours per day | 1 x 7.2 Ah battery, 10 watt foldable Panel,  solar charge controller, DC to DC converter with 1 x USB outlet, carry bag |
| ener-G-friend " 4 x USB" | To charge 4 x tablets at a time | 1 x 22 Ah battery, 50 watt PV Panel, solar charge controller, DC to DC converter with 4 x USB outlets |
| ener-G-friend-70 | To power equipment, to the extent of 9.3 watt, on a 24 x 7 basis, anywhere in typical RSA weather conditions | 1 x 70 Ah battery, 2 x 80 watt PV panels,  solar charge controller, 150 watt inverter, DC to DC converter with 1 x adjustable DC outlet, and 4 x USB ports. |
| ener-G-friend-220 AC charger only | To charge any ener-G-friend with a 220 AC charger when required - externally | ener-G-friend 220 AC charger designed to charge and protect lead crystal batteries |