The Betta Bollard light was specifically developed to economically provide safe, effective lighting in discreet outdoor areas.
 Betta Lights solar powered Bollard light solution. The product is designed around the following key minimum functional specifications to determine the final technical solution: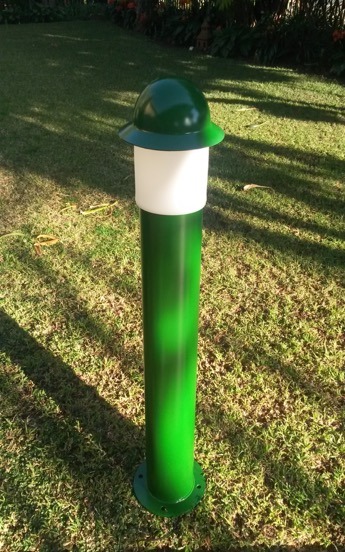 It must be powered from a single solar power source, 
It must be capable to power at least 10 x bollard lights from the single solar power source and must be switched ON automatically at dusk, and OFF at dawn. 
The lights can be disabled at night if required to do so. 
The systems must be corrosion resistant, 
It must be easy to install and to maintain, 
To facilitate cost effective installations, cables between the bollard lights and the main solar power source must be able to reach up to 200 meter, using standard 1.5 mm

2

cable. 
Batteries must be concealed in the pole structure (a) to keep the batteries cool at all times to extend their expected life and (b) to decrease the risk of theft or vandalism, 
Light must be soft, creating a warm romantic atmosphere and acceptable for people to walk in the pathways, and therefore not be white and bright at all, 
The product should be extremely power efficient. The lowest possible light bulb wattage must be used, but still achieve above mentioned criteria, 
The Bollard lights must be able to be installed underneath plants and in the shade. 
The power must be safe and non lethal.